LIFE IS LIKE RIDING A BICYCLE
TO KEEP YOUR BALANCE YOU MUST KEEP MOVING
– A. EINSTEIN –
LIFE IS LIKE RIDING A BICYCLE , TO KEEP YOUR BALANCE YOU MUST KEEP MOVING
– A. EINSTEIN –
Bootcamp // in-& outdoor 18+
Bootcamp // in-& outdoor 18+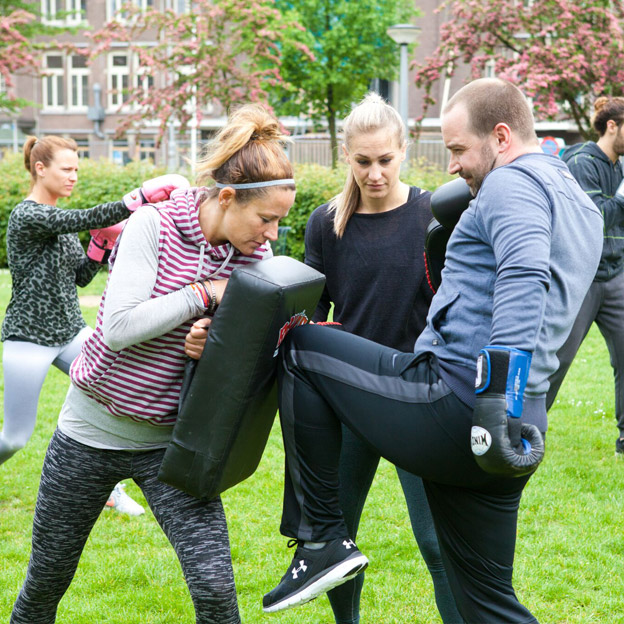 Bootcamping in the Vondelpark is simply great! TrainingZuid also facilitates indoor Bootcamps for those who want to get on with it no matter the weather. In the airco when it's hot, and on a dry surface when rain is crashing down. It is for men and women of different fitness levels. During the high intensity workout you work on strength, endurance, coordination, speed and balance.
When we work outside, we use everything we encounter as a "fitness device". From benches, bridges, climbing racks, trunks to each other. And we use small fitness materials to make it even more fun and challenging. And your own body weight is used to train yourself strong and fit. Think of squats, lunges, push-ups, burpees and more.
TrainingZuid offers adult bootcamps at the Valerius square or Vondelpark all year round, also during the holidays. This is why we work with subscriptions. Only on national days off the gym is closed. There are up to 12 adults in a Bootcamp Group, creating a team dynamic which supplies that bit of extra motivation to keep Bootcamping. When your agenda demands, the bootcamp is migratable to another Group. This can be easily managed through the TrainingZuid App.
Mariëla Kruse
mede eigenaar
Kickboxing Trainer
Silvio Timpico
Group Trainer
Kickboxing Trainer
Sabela Geene
Fit 60+ Trainer
Group Trainer
Miguel Peschen
Kickboxing Trainer
Personal Trainer
Dymphy de Jong
Crossfit Trainer
Bootcamp Trainer
Super Hero Kids Kickboxing