"Good Players inspire Themselves.
Great players inspire others."
"Good Players inspire Themselves.
Great players inspire others."
Kids Kickboxing 8 to 12 and 12 to 18 years old
Kids Kickboxing 8 to 12 and 12 to 18 years old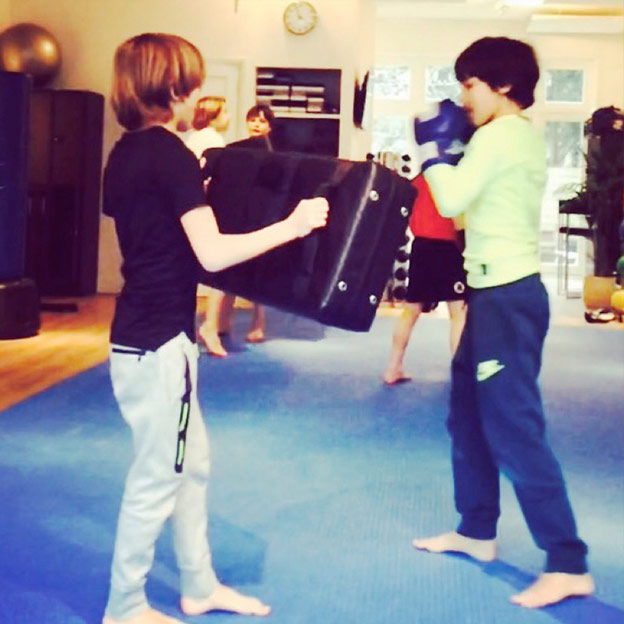 From age 8 onwards, kickboxing minis migrate on to Kids Kickboxing. You can of course also join us at 8 years old if you wish. We offer Kids Kickboxing in 2 different age groups; 8 to 12 years old and 12 to 16 years old. Kids between 8 and 12 years work from 16:00 and children older than 12 years start at 17:00. At 18 o'clock we offer kickboxing for girls in closed sessions.
Under the guidance of qualified top Dutch kickboxing trainers, kids learn the basic techniques of this martial art and strengthen their body in the process, all while working on self-confidence, discipline and inner balance. Of course this is mixed with lots of laughter!
We work with top Dutch trainers who have earned their stripes. Kids get a set kickboxing trainer who they'll get to know and bond with. Groups stay small, up to 12 children, making the Kickboxing trainer mindful of all his students.
TrainingZuid works with closed Kickboxing Groups; You sign up for a regular set training session during the week. Thus, the Kids learn to know each other well which creates a teambond. By the way, it's perfectly fine for different levels to de kickboxing next to each other. Kids Kickboxing is available all year round, also during the holidays. This is the reason we work with subscriptions. The gym is closed on national free days only.
The kickboxing training is also transferable to other Kickboxing Groups. This can be easily managed through the TrainingZuid App.
Mariëla Kruse
mede eigenaar
Kickboxing Trainer
Silvio Timpico
Group Trainer
Kickboxing Trainer
Sabela Geene
Fit 60+ Trainer
Group Trainer
Miguel Peschen
Kickboxing Trainer
Personal Trainer
Dymphy de Jong
Crossfit Trainer
Bootcamp Trainer
Super Hero Kids Kickboxing